Welcome To Stress-Free Floor Care Service.
Stress-Free Floor Care Isn't Accidental. It's Intentional. 
Welcome To Stress-Free, Floor Care Service.
Stress-Free Doesn't Happen By Accident. It's Deliberate, Measured, & Absolutely On Purpose.
Our Company Was Started In 2004, When Pride In Workmanship Still Mattered, People Followed Through On Promises, & "a Contractor's Word And Handshake Were His Bond."
Building owners, facility managers, and property managers routinely complain about their floor care providers. Not informing clients about the condition of their floors. Not initiating communication with clients. Not managing their floor care crews. And there are others. To make matters worse, these commercial clients know little to nothing about floor care, so they don't know if their floor care providers are trying to provide the best service possible or make as much money off of them as they can.
At Advanced 360 Total Floor Care Systems, we've seen the damage caused by unscrupulous floor care providers so we understand why clients and prospective clients are skeptical. This skepticism motivated us to create stress-free commercial floor care.
WE DO EVERY JOB RIGHT. NO EXCEPTIONS. NO EXCUSES.
What To Expect When You Hire The Best
Our Workmanship & Expertise Help Protect Your INVESTMENT  Choose Your Service
Stone Resin Conversion System
Explaining what your facility needs.
Explaining what types of care are needed and how often.
Implementing a predictive maintenance program.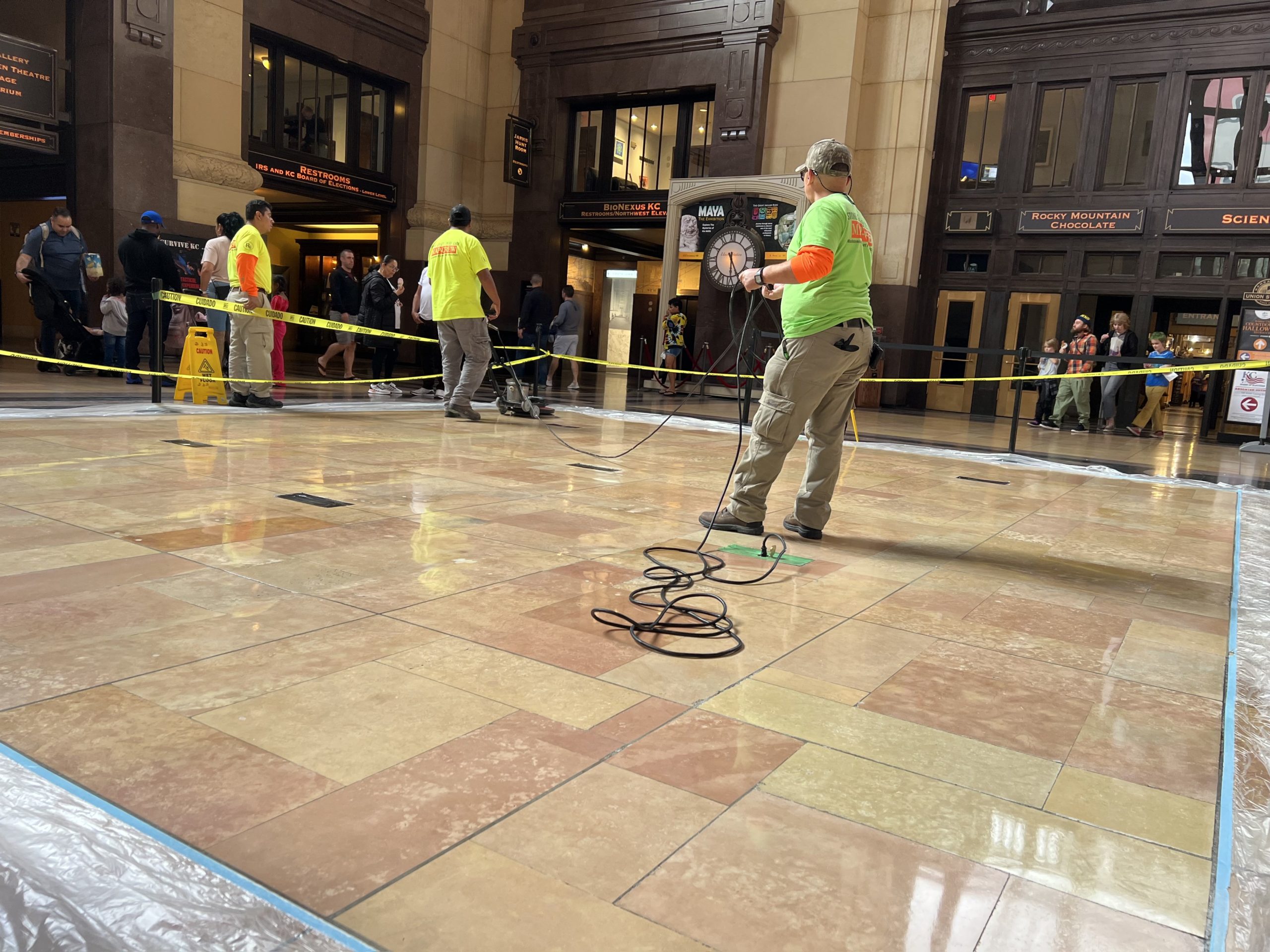 ADVANCED 360 TOTAL FLOOR CARE SYSTEMS KANSAS CITY'S INDUSTRY-CERTIFIED FLOOR CARE PROVIDER
We guarantee compliance with manufacturer maintenance and care specifications, which ensures your floors will be properly cared for, and we comply with Carpet and Rug Institute standards and procedures for floor cleaning, floor maintenance, floor polishing, and commercial floor care. Our Floor Care Technicians, who attend manufacturer-certification training classes, use cleaning techniques that comply with OSHA safety regulations. We offer floor cleaning and floor care services throughout Greater Kansas City, and our headquarters is located in Lenexa, Kansas.
APPROVED SERVICES PROVIDER
Institute of Inspection Cleaning and Restoration Certification (IICRC)
Carpet & Rug Institute (CRI)
TRUSTED BY LEADING COMPANIES
It takes 2 seconds to make an impression. We'll ensure your facility makes a good one.