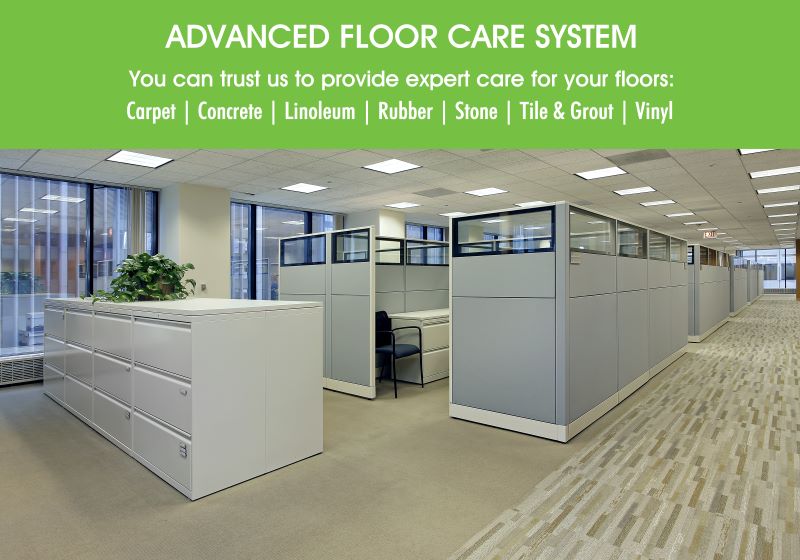 Want to Extend the Usable Life of Your Surfaces? You Need to Do More Than Clean!
We're the industry leader in Maintenance of Asset Preservation (MAP), and we've developed a one-of-a-kind system that will extend the usable life of your building's surfaces – surfaces that are costly to install, expensive to refurbish, and prohibitively expensive to replace. We are a leader in Kansas City floor maintenance – floor finish application (waxing), carpet care, Stone, Terrazzo, concrete polishing, tile & grout restoration, and overall floor care. We also:
Adhere to manufacturer recommendations.
Increase protection for your warranties.
Spare you from costly, unnecessary replacements.
Specialize in commercial surfaces—particularly floors.
We have 22 years' local experience caring for commercial carpet, floors, and hard surfaces, and our loyal partners are proof that we provide exceptional service in the Kansas City commercial cleaning industry.
Improve Appearance
Workplace Safety
Healthy Environment
Save Money
We've saved our partners thousands of dollars in avoidable costs.
Why is Carpet Maintenance and Floor Care So Important?
Floor Maintenance helps protect your investment.

Commercial flooring is a substantial investment for any business – one you'll want to protect for years to come. After all, the longer your flooring lasts, the less frequently it needs to be replaced. Good floor care and flooring maintenance helps protect your total flooring investment.

Carpet Maintenance helps carpet last longer and cost less.

A consistent, predictive maintenance floor care program can significantly improve the appearance retention throughout the life of the flooring. Our Kansas City strip and wax services, floor polishing, tile and grout cleaning, and floor cleaning services get the job done right.
Maximize Your ROI. Eliminate Your Stress.
Let us consolidate your vendors into a single, scalable, Kansas City commercial cleaning solution for your floors and interior assets.
Each floor surface in your facility needs to be cared for and maintained in its own unique way.
What Do Carpet, Floors, Furniture, and Tile Have in Common?
They're Abused.
Your janitorial staff only handles daily cleaning.
Your floor won't last as long as it's supposed to if it's simply cleaned every day.

If problems arise, our experts will find solutions, keeping your facility looking amazing year-round.

You won't need to manage or supervise your floor care. That's our job.
You have enough to do. Let us handle your floor care and maintenance.
On January 1, 2008, fiber and floor-covering manufacturers placed maintenance and floor-care requirements on their products. The three largest carpet manufacturers – Beaulieu, Mohawk, Shaw – began requiring that in order for their carpets and floor coverings to maintain their warranties, they had to be serviced by IICRC-certified technicians. 
Check the warranty on your floor or fiber products to ensure you're following their maintenance and floor-care requirements. If you fail to follow them, you will void your floor's warranty.
All products we use are specified or approved by every major player in the industry.
ADVANCED 360 FLOOR CARE:
KANSAS CITY'S INDUSTRY-CERTIFIED FLOOR CARE PROVIDER
We guarantee compliance with manufacturer maintenance and care specifications, which ensures your floor will be properly cared for. We comply with Carpet and Rug Institute standards and procedures for floor maintenance and floor care. Our KC Floor Care Technicians attend manufacturer-certification training classes, and the cleaning techniques our Technicians use comply with OSHA safety regulations. We proudly serve the entire Kansas City metro, including Overland Park, Shawnee, Lenexa, Olathe, Mission, and KCK, with our headquarters based in Lenexa, KS.
Our Emergency Help Desk Is Available 24/7.